Nick Kyrgios is the talk of Australia in the run up to the 2023 Australian Open. Here's why we reckon this year is his best shot yet at taking out the whole tournament.
---
The Canberran tennis sensation has found himself very much on centre court in the early episodes of 'Break Point', the upcoming tennis documentary equivalent to 'Formula 1: Drive to Survive', which released on Netflix on Friday 13 January.
Looking at Kyrgios' breakout year in 2014 – where he shockingly defeated then-defending champion Rafael Nadal at the tender age of 19 – the documentary delves into the Australian's struggle with his mental health and drinking during the start of his professional career, all the way to the beginning of last year, where he was considering quitting the sport altogether.
However, after a hugely successful 2022, where the tennis star won the Australian Open men's doubles with Tanasi Kokkinakis and was the runner up in the men's singles at Wimbledon, fans are speculating that the 2023 Australian Open may be the tournament that sees Kyrgios finally win a singles Grand Slam, a feat which has so far eluded him.
Competing in both the singles and doubles this year, Kyrgios will first take to Melbourne's Rod Laver Arena on Friday – coincidentally the same day as the documentary aired – where he played rival Novak Djokovic in a sold-out practice match, prior to the tournament starting.
The Serbian was the one to defeat Kyrgios in the Wimbledon final last year.
But before he suits up for the tournament, read on as DMARGE takes you through all the reasons why 2023 could be Kyrgios' best chance to win the Australian Open.
He's coming off the best year of his career
As we've established, 2022 was the year the Nick Kyrgios finally came into his own as one of the best players on the ATP circuit.
The 27-year-old has long been considered one of the most talented players in the world, with former player John McEnroe calling him, "probably the most talented player the sports has seen in the last decade."
But it was only really 2022 where Australia's number one ranked player started to put it together consistently.
Alongside his doubles Grand Slam victory at the Australian Open and reaching a Wimbledon final, he also defeated world number one Daniil Medvedev on two occasions, the latter to advance to the quarter final of the US Open for the first time in his career, in what was a stunning performance.
Kyrgios will be looking to build on these results in 2023 and a singles victory at the Australian Open would be the perfect way to start. Breaking the Grand Slam levee and ending his major drought would cement him as one of the best tennis players in today's game and would hopefully propel him to success in future Grand Slams down the line.
His mindset
As the Netflix documentary alludes to, the early stages of Kyrgios' career were plagued with mental health struggles and drinking problems.
His trainer and long-time friend Daniel 'Horse' Horsfall recalls having to track Kyrgios's location on his phone and at times had to search clubs on the night before matches to drag him out.
More recently, the pandemic meant Kyrgios played very little tennis in 2020, and a poor 2021 – by his lofty standards – which was eventually cut short due to injuries, purged the tennis star of his love for the game.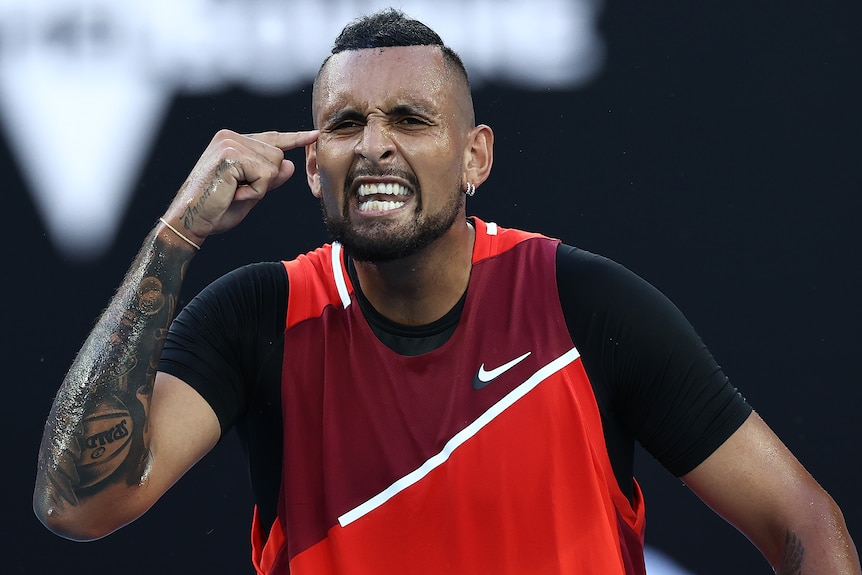 RELATED: How Nick Kyrgios Gained A Mental Edge Over Daniil Medvedev
However, 2022 marked a significant rejuvenation in his mindset and ultimately his career. In February of last year, he revealed to The Guardian that he had, "completely turned himself around."
"[I] have a completely different outlook on everything," he said, "I don't take one moment for granted."
"This life is beautiful."
As well as managing his own mental health struggles, Kyrgios has also overcome a significant mental roadblock following his doubles victory as last year's Australian Open.
Speaking on the Break Point documentary, Kyrgios said:
"When people say Nick Kyrgios didn't achieve this, didn't achieve that; all that I've gone through led to a grand slam. It's there it's never leaving now."
He continued, "I'm here to show you that I'm one of the best players in the world. I don't see anything holding me back."
Overcoming this bugbear may be exactly what Nick Kyrgios needed in order to win the elusive Australian Open in 2023.
A break before the tournament
Nick Kyrgios has come under fire as of late for missing a string of tournaments in the run up to the Australian Open this year.
He pulled out last-minute of the United Cup in December citing ankle worries, which drew the criticism of former Australian Grand Slam winner Lleyton Hewitt for his "lack of communication." Most recently he pulled out of the Adelaide International 2, the last event before the Australian Open.
While some could argue that the lack of tennis may serve as a hinderance to Kyrgios, the tennis star regularly cuts down the number of tournaments he plays every year to allow more time at home, which has translated to better finishes in Grand Slams as of late.
One can only hope that his absence in Sydney and Adelaide means he is fully focussed on the Australian Open and fans can expect him to put on a show in both the singles and doubles this year.
His Girlfriend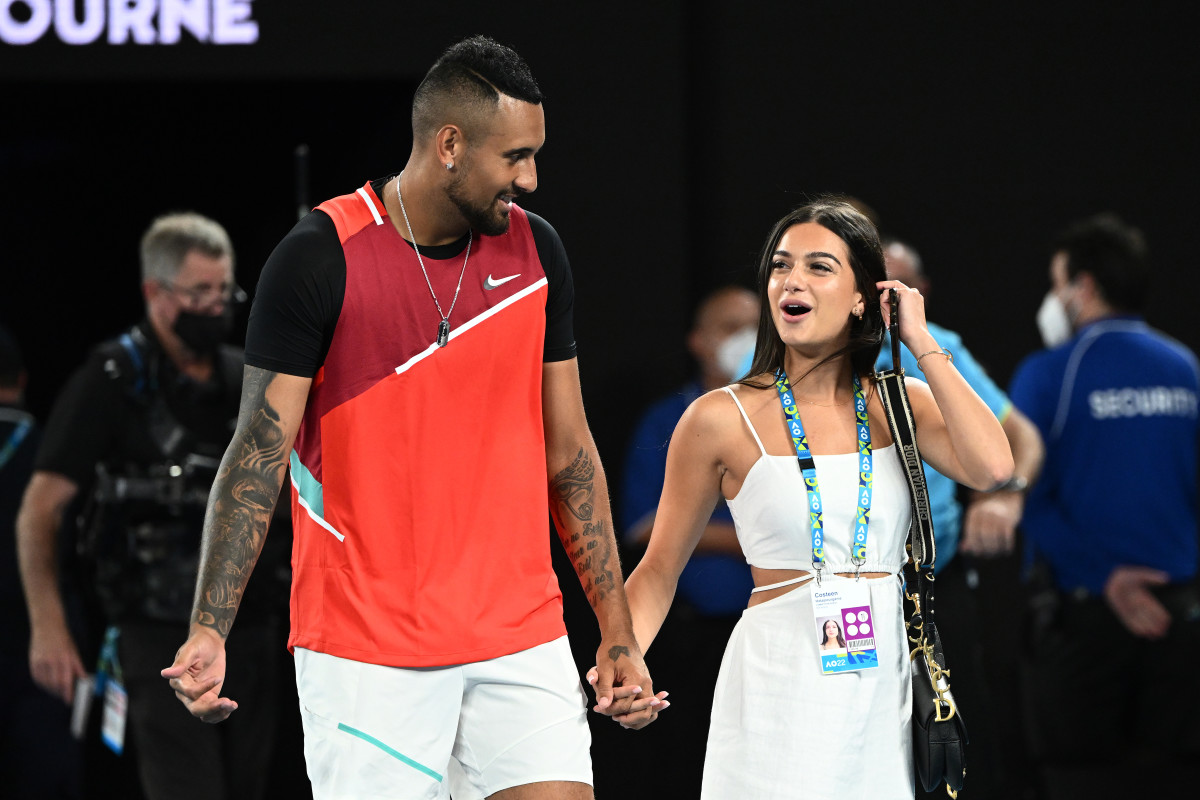 By Nick Kyrgios' own admission, his 22-year-old girlfriend Costeen Hatzi has played a huge part in his recent success.
"None of this could have been done without her," he told The Australian Associated Press.
He said, "It's been a very successful year, not only on the tennis court but just in general. I'm feeling really good about everything and just enjoying life."
"And meeting Costeen was probably my favourite moment, probably the best thing that's ever happened to me – and the year I've had as a highly motivated and highly pushed player, has been because of her."
Despite no formal announcement, Kyrgios recently commented on Ms Hatzi's Instagram saying, "Our wedding soon", insinuating the couple may tie the knot in the near future, despite having only been dating since December 2021.
With his girlfriend maintaining such a positive influence on the tennis player's life, we hope that Kyrgios' happiness off the court translates to success on the court.
Home Advantage
It is fair to say that Nick Kyrgios is likely the most polarising figure in tennis today.
His critics point to his on-court antics as bad sportsmanship and refer his off-court troubles with the law as a reason not to support him.
However, he also has legions of fans – especially on Australian shores – who support him through thick and thin.
He is undoubtedly one of the biggest draws of the Australian Open in 2023; even his pre-tournament practice match with Novak Djokovic sold out in under an hour, prompting him to poke fun at his haters.
He sarcastically tweeted, "Wow Nick Kyrgios is bad for the sport! Wow what a disgrace, a national embarrassment! How dare he sell out another stadium, the arrogance."
Kyrgios will certainly have the crowd on his side in Melbourne in January, who will be louder than ever after the year he's just had. They will blow the roof off of the Rod Laver Arena should he be victorious.
Love him or hate him, Nick Kyrgios is certainly a box-office success, who has a real chance to make history this year.
Imagine the scenes should he pull it off.
Read Next: