There are no doors, there are no windows, and commentators have said it looks like toaster with a funny hat – but this odd little box could be the future of driverless delivery.
A new startup called Nuro today brought its flagship product out of stealth mode. Like Aurora, Waymo, and others, it's hoping to be instrumental in bringing self-driving vehicles to a road near you. But unlike its competitors, Nuro has no intention of ever transporting human passengers.
Instead, Nuro is focused on what it calls 'last-mile' deliveries. The lightweight vehicle is designed to make local, low-speed commercial drop-offs, bringing things like groceries, dry cleaning, or flowers to buyers with almost no need for human intervention.
Developing A Delivery Droid
At first glance, Nuro may seem like an unusual choice. Why commercial deliveries? Why not tackle something that seems more impactful, like trucking or taxis?
In fact, the Silicon Valley startup had multiple reasons for setting its sights on the delivery market. First, it has the potential to change the lives of a significant number of people. Second, it posed an intriguing technical challenge. Third, it could be executed within three to five years.
Most importantly, co-founders Dave Ferguson and Jiajun Zhu saw a genuine need for their product. Consumers are placing more online orders than ever before. Simultaneously, they expect shorter delivery windows than ever before. Automating these services could help shoulder the sharp increase in last-mile deliveries generated by the e-commerce boom. It could also reduce traffic accidents, and help local businesses stay competitive against giants like Amazon.
"We started Nuro to make products that will have a massive impact on the things we do every day," said Ferguson. "Our world-class software, hardware, and product teams have spent the past 18 months applying their expertise to deliver on this mission. The result is a self-driving vehicle designed to run your errands for you. It is poised to change the way that businesses interact with their local customers."
Tech & Specs
Nuro's debut vehicle clocks in at 3.5 feet wide and just 1,500 pounds – about the length of a Smart car with the height of a standard sedan (though half as wide). No human passengers means no need for doors or windows, but it does include a "windscreen" so as not to alarm other drivers. Likewise you'll find no seats, airbags, pedals, gear shifts or a steering wheel, though you will find a fully electric motor.
The bulk of Nuro's small body is devoted to storage space for cargo. Each transport pod will come with a modular interior that can carry about 250 pounds. Retailers will be able to customise the interior according to their needs. A grocer, for instance, could add shelves and refrigeration, while a dry cleaner could opt for hanging racks.
Up top, you'll find the suite of self-driving sensors Nuro uses to navigate. The "hat" or "handle" sprouting from the roof boasts cameras, radars, and a spinning LiDAR unit to create 3D, high-definition images.
The Brains Behind The Bot
Dave Ferguson and Jiajun Zhu both come with A-list pedigrees. Ferguson got his start at Carnegie Mellon University's Robotics Institute, where he helped build the car that won the 2007 Darpa Urban Challenge, then joined Google's self-driving car team in 2011. Zhu was a founding member of the Google project. Together they left the company in 2016 to found their own venture.
"We aspire to lead a new wave of robotics applications that make life easier for everyone and give us more time to do things we love," said Zhu. "We are living in extraordinary times where advancements in robotics, AI and computer vision are making it possible to imagine products and services that could not have existed just 10 years ago."
Since founding Nuro, they've attracted talent from the likes of Google, Waymo, Apple, Uber, Tesla, and GM. Members of the team come from top-notch universities like MIT and Oxford, and have won numerous prestigious competitions including DARPA Urban Challenge, DARPA Robotics Challenge, and ImageNet.
What's Next For Nuro?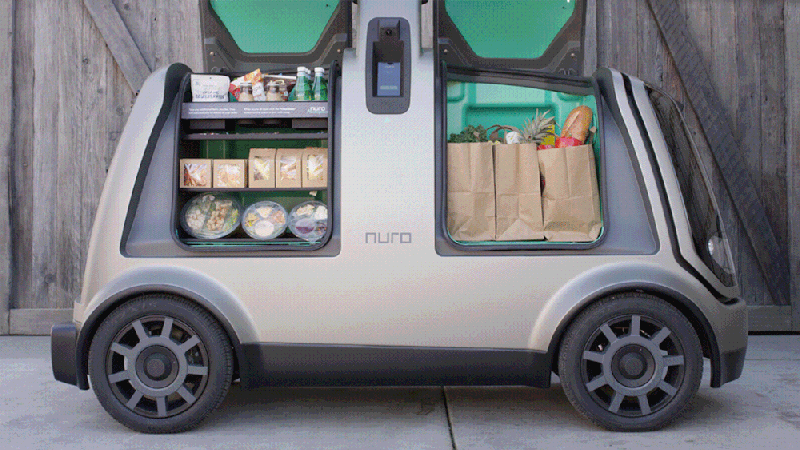 Nuro has raised US$92 million so far, but that doesn't mean the project is on easy street. There is work to be done and there are challenges yet to be met, any one of which could potentially tank the project.
Like any startup, Nuro must find a profitiable and sustainable business model. Ferguson and Zhu must also devise a solution for preventing delivery theft, and iron out every one of the small functional details (how, for instance, will someone know their goods have arrived if there's no driver to ring their doorbell?).
Nuro must also clear a series of legal hurdles. The company currently has a permit from the California DMV and will begin testing on public roads later this year. It will need permission from the US National Highway Traffic Safety Administration, however, before it can operate in states that prohibit completely human-free driving.
The Nuro team is hopeful that bringing their vision to life will be easier than full-scale driverless cars. They are smaller, slower, safer and will never transport delicate human cargo – with luck, that will mean fewer issues convincing regulators to give the diminutive delivery pod their stamp of approval.
Check out the prototype in action below.
RELATED: 
World's First Self-Driving Ubers Have Arrived
1/4
2/4
3/4
4/4
Co-founders Dave Ferguson and Jiajun Zhu